By Martie Thompson
editor@floridanewsline.com
Mandarin residents Chris and Lorena Linke are long-time fans of British veterinarian James Herriot and his series of books including "All Creatures Great and Small." Avid walkers, they decided to walk the Herriot Way, a 52-mile circular walk through the Yorkshire Dales, which was inspired by a walking tour that the real James Herriot, Alfred Wright, took with his son Jim. They documented their four-day walk in 2019 and produced a one-hour documentary film which is currently showing on PBS stations nationwide, including in Jacksonville on WJCT. Both have backgrounds in the industry; Chris is a video and film editor and Lorena is a professional actress with a theater degree. But this was the first time they worked on their own creation, from start to finish. "It was just the two of us doing all the writing, filming and editing," Lorena said. The Linkes have two children, a son who is a teacher in St. Johns County and a daughter at Mandarin High School. They also have a two-year-old grandson.
Q: How long have you lived in Mandarin?
A: (Lorena) We both moved to Jacksonville with our families when we were very young. I graduated from Wolfson and Chris graduated from Englewood. We met when we were in our 20s and worked at Blockbuster Video, sharing a mutual love of old movies. We married in 1994 and moved to Mandarin and have lived here ever since. We have always had an affinity for Mandarin and we raised our two children here. My first job was actually as a cashier at the old Mandarin Super when I was a teenager.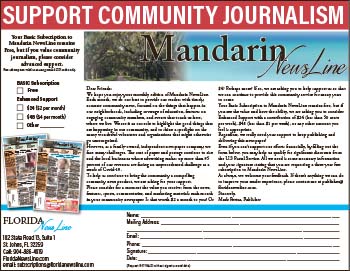 Q: What came first: walking or a desire to walk The Herriot Way in England?
A: (Lorena) Definitely walking. We were runners first and we switched to walking to save our knees. We discovered Alfred Wainwright's Coast to Coast Walk in England, which is a two-week walk. We absolutely fell in love with walking in England. 
(Chris) We were already James Herriot fans, and then Lorena discovered the Herriot Way walk. We found that it really married two of our loves: the book series and walking.
Q: How did you decide to document your walk?
A: (Chris) I am a film editor, so when we went on the walk, I said, "Let's take our gear with us and do some filming." It just grew from there. Initially we thought we would do some YouTube videos, but we found so many wonderful stories about Herriot that we realized we actually had a script for a documentary.
Q: What did you find to be the most interesting part of the walk?
A: (Lorena) The people you meet along the way. The walk is along permissive pathways through the open countryside. You meet the villagers and farmers along the way; they are open, gracious, and warm. We made so many friends along the way. I also loved to listen to the sounds of the sheep, birds and rivers — it's truly an immersive experience.
(Chris) As walkers, you have an automatic credibility. Everyone knows that you're there to enjoy the outdoors and the natural beauty.
Q: Tell us about meeting James Herriot's son during the filming.
A: (Lorena) We did the walk over four days, going from village to village along the route. Each night you stay in an inn or B&B. We did tack on some extra days for filming. We reached out to James Herriot's son and told him we loved his dad and the area and that we'd like to talk to him for our documentary. To our surprise, he agreed and we sat down with him at the James Herriot Museum in Thirsk. He's as much of a storyteller as his dad was. He is also an accomplished veterinarian, but retired now. With his sister, he works to maintain his father's legacy.
Q: What's next for you?
A: (Lorena) We'd love to do another long distance walk. Walking is so appealing and anyone can do it — just buy a plane ticket and a backpack and go! Definitely anyone who is a fan of James Herriot should consider taking the Herriot Way walk.
(Chris) We have lots of ideas for future walks and documentaries. We'd like to try to get a company to help finance the next project. This one was a labor of love.
[Editor's Note: Visit www.theherriotwayfilm.com to learn more about Chris and Lorena Linke's adventures as well as how to view their documentary. The Linkes are also happy to answer any questions that prospective walkers might have.]
Photo courtesy Chris and Lorena Linke
Lorena and Chris Linke in Reeth.