By Martie Thompson
mail@floridanewsline.com
As someone who can trace his ancestors back to Massachusetts in 1675 and whose family has lived in Mandarin since the Spanish Land Grant in 1783, Donald Bowden has plenty of stories to tell. In fact, many streets and roads in Mandarin are named after his family through the years: Bowden Road, Hartley Road, Flynn Road and Plummers Cove Road just to name a few. Bowden has lived his whole life in Mandarin and went to Loretto Elementary School, DuPont Middle School and Wolfson High School. He worked at the old Julington Creek Restaurant that was located where the marina is now near the Julington Creek Bridge before working for Winn Dixie and becoming an assistant store manager of the company's busy Cedar Hills store at age 22.
Eventually, he started Bowden's Pump Service with his father and worked in the pump and well business before he ran over his own leg with a hot rod car in his backyard. It was three years before he could walk again and he decided to retire. Since he was used to working seven days a week, he needed to keep busy … and that's where the frogs come in. Yes, Donald Bowden, sometimes better known as Mandarin's Frog Man, is the originator of the concrete frogs that are all over Mandarin — and in many other states and countries now as well.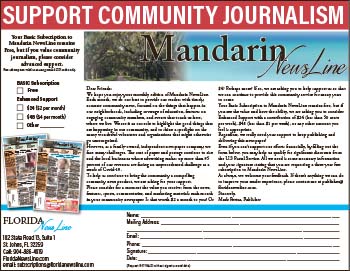 Bowden was honored in 2018 as the first male recipient of the Miss Aggie Award, given annually to a Mandarin resident who contributes to the Mandarin community in the areas of business, civic, educational or charitable accomplishment. On Sept. 7, he was awarded the 2019 Art of Giving Award by the Cultural Council of Greater Jacksonville. He was nominated by the board of directors of the Mandarin Museum & Historical Society who felt he exemplified the criteria: "an outstanding philanthropist who has graciously help fund, support or sustain arts and cultural programs and organizations in our communities." He has an adult daughter who lives in St. Petersburg and a granddaughter.
Q: How did you get the idea for the first frog?
A: I built my house in 1987 and there were no trees in the yard, so I put in a fountain. It needed "something" and when I visited North Carolina, I bought two concrete frogs for it. I thought more were needed. One day in Lou's Barber Shop, I saw an ad for a mold in the shape of a frog in a catalog: "Turn concrete into gold." I ordered the mold and made 10 more frogs for my fountain.
Q: How did the frogs get from there to being all over Mandarin?
A: Before I could walk from my accident, I could ride my bike. I rode that rusty beach cruiser on a route that took me 44 miles each day and I always stopped at the Walter Jones Park to look at the river. At one point, a tree had been cut down on the property and just the stump was left. I thought to put one of the frogs on the stump. That's how it started. Then I started, as kind of a joke, putting them at various places all over the park and then all over Mandarin as I traveled on my bike. But they kept getting stolen.
Q: When did you get the idea to make the frogs for the Mandarin Museum and Historical Society?
A: In early August 2015, I finally confessed to Sandy Arpen, president of the museum, that I was the one who had made the frogs, but that I wanted to remain anonymous. Shortly after that, the museum had a yard sale as a fundraiser and I donated 10 frogs to sell. Nine of them sold that day and the last one was sold later in the museum gift shop. After that I would just make a few each week for sale in the gift shop and it grew from there. Now we have the Painting Parties on the museum lawn periodically. The frogs have become a big fundraiser for the Mandarin Museum.
Q: How many molds do you have and how do you make the frogs?
A: I still have the original mold I bought in the catalog and I've acquired a second. For the painting parties, I made my own molds. Now I have four molds and I run them every day. I probably buy five to six bags of concrete a week. I work on the molds 10 hours a day, six days a week. I also now have squirrel and sea turtle molds. The sea turtles will soon have their own fundraiser. This has really taken on a life of its own.
Q: How did you decide to let your true identity be known?
A: When they decided to give me the Miss Aggie Award, I thought it was important to use my full name.
[Editor's note: By 2019, Bowden has made thousands of frogs and raised $100,000 for the Mandarin Museum & Historical Society – 60 percent of it allocated to the Museum Expansion Project.
Museum president Sandy Arpen said, "Mandarin Museum & Historical Society is forever grateful to Donald Bowden for his extremely generous gift to the Mandarin Museum and the community. He is a philanthropist of the highest order — giving his time, his talent and his treasure. His goal was 'to make people smile' and he has indeed accomplished that goal as well!"]
Photo courtesy Mandarin Museum & Historical Society
Donald Bowden