By Martie Thompson
editor@floridanewsline.com
Marjie Rogozinski said she believes everyone needs a passion — her passion is uplifting people and enhancing life, whether human or animal, and she finds that volunteering is a great way to do this. "I'd actually like to inspire people to volunteer in their community," she said. "They can make a difference and at the same time give them a chance to meet others." Born and raised in Springfield, Massachusetts, she graduated with a Bachelor of Arts degree in education from the University of Massachusetts. She moved to Atlanta for a job teaching middle school, and it was there that she met her husband of 41 years, Abe. The couple moved to Mandarin 40 years ago when Abe, an orthopedic surgeon, joined his brother in practice at Rogozinski Orthopedic Clinic. Marjie and Abe have four children, all of them doctors: three sons are orthopedic surgeons and their daughter is a doctor of physical therapy. The Rogozinski Orthopedic Clinic is truly a "family practice," as two of Marjie and Abe's sons practice there with their father and uncle. The Rogozinskis have 11 grandchildren and one on the way; they are all nine years old and younger. Marjie said she and Abe have always stressed to their children that family values are first priority, because this reflects in love and caring for the community.
Q: What do you like best about living in Mandarin?
A: It's so serene and the people are so welcoming. I love the walkability of my neighborhood, and especially under the beautiful Spanish oak trees. It's the best place to live in the city.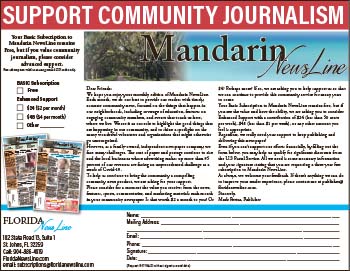 Q: Did you teach school once you moved to Jacksonville?
A: Yes, I taught at Martin J. Gottlieb Day School for 13 years. I taught third grade and I think everyone will remember Mrs. Rogo's classroom, called "The Swamp."
Q: What can you tell us about Towels for Tails?
A: It's not an organization; it's just my own little thing. I don't like to throw anything away and about 10 years ago I read something about how the Humane Society needed old towels for the animals. So I started putting it on my Facebook page that I was collecting towels and sheets for the Humane Society and I called it Towels for Tails. Now I give the donated items to Animal Care and Protective Services, which is the City of Jacksonville's shelter. Over the years, people have dropped off thousands of towels at my house for me to take to the animals. It's been a joint effort for sure.
Q: What other volunteer work do you do?
A: Very near and dear to my heart is my time spent as a docent at the Cummer Museum. I lead curriculum-based tours and get to inspire others by teaching about art and how it relates to life. I'm also very involved with my synagogue. I'm a member of the Jacksonville Jewish Center Sisterhood, a social and philanthropic group. We serve our synagogue members and the community.
Q: What do you enjoy doing in your spare time?
A: I like to travel, both near and far, especially to see my family. I enjoy photography, spending time with my grandchildren, and playing Mah Jongg. The number one thing I love to do is walk on the beach with my husband, who is the love of my life, and our three-year-old Goldendoodle, Honey. The beach is my happy place.
Photo courtesy Marjie Rogozinski
Marjie Rogozinski