By Martie Thompson
editor@floridanewsline.com
Rex and Norma King just celebrated a milestone wedding anniversary: 71 years! The two met while in high school in Tennessee and married shortly after graduating. Rex enrolled in college at Memphis State and then went to seminary. He took a job as a youth minister at a Presbyterian church in California and while there he earned a doctorate in counseling psychology. Norma was busy raising their children and then becoming an optometric technician who went on to be an office manager for two different eye doctors. Eventually, the family moved back to Memphis to be near Rex's and Norma's parents when they became elderly and ill and needed assistance. The Kings retired to a lovely place on the Tennessee River known as Kentucky Lake and lived there until their adult daughters, who lived in Jacksonville, requested that they move to Jacksonville. In 2017 they made the move to be closer to family and have lived at Harbor Chase Senior Living since 2021.
Q: Rex, how did you come to enter the Marine Corps while still a teenager?
A: Rex: I joined the Marines at age 16 and my parents had to sign for me to join. I just wanted to get away from home for a bit and I served as a Marine Guard MP. I was actually stationed at NAS Jacksonville. Eventually I realized how important education was for me, so I got out of the Marines and returned home to Memphis to finish high school.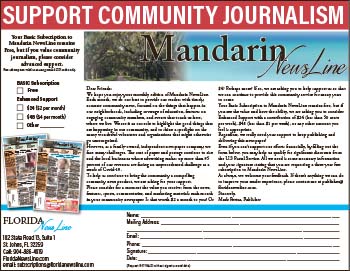 Q: How did you two meet?
A: Norma: Rex was 19 and had just returned from the Marines. We were in 11th grade and met at Young Life, a church camp. Rex was a diver and was always practicing his back flips, so he did one in front of me. I told him, "I guess you can walk me back to my cabin." We dated on and off after that and after graduation, we married in August 1951.
Q: What advice would you offer to newlyweds?
A: Norma: Listen to each other!
Rex: I'd say listen too, but also keep humor in your life.
Norma: Oh yes, Rex has a great sense of humor. His favorite expression is "Do you miss me?" He asks the staff here at Harbor Chase all the time, so now they've started asking him that too.
Q: What do you enjoy doing at Harbor Chase?
A: Norma: We play Train dominoes and like listening to the visiting musicians the best.
Q: What are your hobbies?
A: Norma: We both used to paint and Rex used to ride a motorcycle. Today, he collects toy cars and I love to read and play games. We also both like to FaceTime with our four children, nine grandchildren, and five great grandchildren. We have their pictures all over our apartment.CUTLINE [PLS CROP TO JUST THEIR TORSOS/HEADS]
Photo courtesy Karen Willett
Rex and Norma King