By Deidre Hicks
mail@floridanewsline.com
Famous author Neil Gaiman once said, "Google can bring you back 100,000 answers, a librarian can bring you back the right one." The skilled librarians at Mandarin and South Mandarin branch libraries help customers find the right answers and just as important, they do it with caring and compassion.
A thankful customer conducting a job search recently complimented librarians Mark Hohnadel and Stacey Van Hoy at Mandarin library. Hohnadel spent one-on-one time with the customer, helping her update her resume, locating pertinent library resources and forwarding her resume to a friend who was hiring. The customer said she was in "awe of the helpful service and the sincerity exhibited by Mark, Stacey and the entire staff" in solving her concerns. Her quote sums up the dedication of all staff at the Jacksonville Public Library. According to Hohnadel, he was just doing his job.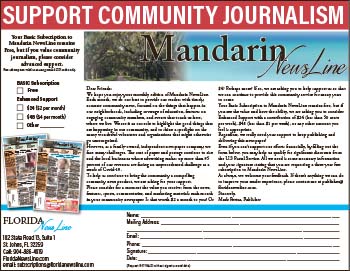 Get your vote on
Let your voice be heard during early voting opportunities through Nov. 6 at both library locations. Go to your assigned polling precinct on general Election Day, Nov. 8.
Native American Heritage Month
In honor of Native American Heritage Month, Craig Morris, supervisory park ranger at Fort Caroline National Memorial, will present a special program about the Timucuan, the Native Americans who inhabited Northeast Florida. Morris is a treasure trove of information as he has more than 25 years of experience studying the Timucuan. The event takes place Saturday, Nov. 12 from 2 p.m. – 4 p.m. at Mandarin Branch Library.
Need financial aid?
If you have or are a student preparing for college, "Completing the FAFSA" program will help you navigate the ins and outs of the Free Application for Federal Student Aid (FASFA). Join us at South Mandarin Branch Library on Saturday, Nov. 5 at 2 p.m. to get answers to questions such as what is the FASFA, why is it important, who is eligible and much more.
The virtual library is always open
Although library locations will be closed Nov. 11 in honor of Veterans Day and Nov. 25 and 26 for Thanksgiving, the virtual library is available 24/7 at www.jaxpubliclibrary.org. Download popular and current e-books, audiobooks, magazines, music and movies for free. This will leave money in your pocket for Black Friday shopping.
Speaking of holiday buying, you can support the library while shopping on Amazon. If you're searching the library's online catalog for a book, CD or DVD  and you decide you'd like to own your own copy, just click the Buy It Now button beside the item. You will be redirected to Amazon.com where you can complete the purchase through your personal Amazon account. Each time you use the Buy It Now link to purchase books, music or any other items from Amazon, your purchase will benefit the library and help us add new materials to our collection. Thank you in advance for your support.
Find information about additional upcoming events at Mandarin and South Mandarin branch libraries at jaxpubliclibrary.org/events or call the Mandarin Branch Library at (904) 262-5201 or the South Mandarin Branch Library at (904) 288-6385. Contact Ed Zoller at edzoller2@gmail.com to learn more about the Friends of the South Mandarin Library.
Deidre Hicks is with the Jacksonville Public Library.
Photo courtesy Jacksonville Public Library
A few of the 11 people who became U.S. citizens, Aug. 3, 2016.