By Sandy Arpen
mail@floridanewsline.com
Dale Rohlfing and Cecilia Vo brought a very interesting story to the Mandarin Museum last month.
Rohlfing, a retired chiropractor and Vo, a lab technician at Mayo Clinic, moved to Mandarin two years ago from Minnesota. Their house on Mandarin Point had some nice flower bed areas and they decided to freshen them up with some new plants. While digging, Rohlfing hit something hard and big. As he carefully continued digging, a very large concrete frog was revealed! Of course, it was dirty, but also had no paint left on it.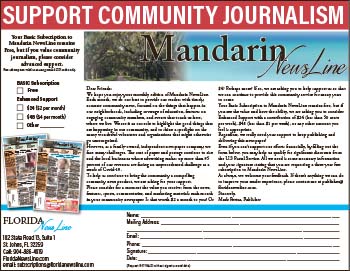 Rohlfing, a volunteer at Mandarin Museum & Historical Society, decided to bring the frog to the August frog painting event and repaint his find. After a couple of hours Rohlfing and Vo left with a beautiful, like-new frog named Lucy. Lucy now sits proudly on a stump in their garden "looking for insects among the ferns."
You just never know what you'll find while digging into the earth in Mandarin. While gardening, keep an eye out for hidden and forgotten treasures of the past.
Sandy Arpen is a volunteer with the Mandarin Museum & Historical Society, located at 11964 Mandarin Road in Walter Jones Historical Park. Visit www.mandarinmusem.net for more information about Mandarin's history and the Mandarin Museum & Historical Society.
Photo courtesy Sandy Arpen
Cecilia Vo and Dale Rohlfing repainting their local "treasure."