By Angela Higginbotham
angela@floridanewsline.com
The highly anticipated ribbon cutting and grand opening ceremony of VyStar Credit Union's newest branch was held on Sept. 26 at Mandarin High School. Each school branch is managed by students under the supervision of a teacher, as well as VyStar Credit Union representatives. The importance of a strong foundation in financial literacy is vital for young students as they prepare to entire adulthood. The program's mission is to serve the students, teachers, and staff members in their school community. As part of this year long program, students have the opportunity to implement skills acquired within the classroom in a genuine branch environment.
"The expansion of this program provides an invaluable opportunity for hundreds of our students to establish a firm financial foundation in a real world atmosphere," said Duval County Superintendent of Schools Dr. Patricia Willis.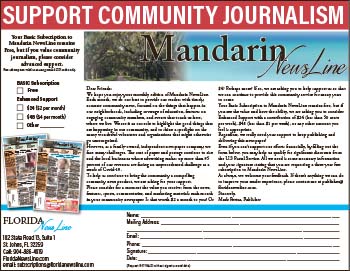 School board members, principals, Mandarin High School faculty, VyStar board of directors members, and special guests gathered at Mandarin High School to introduce the new state-of-the-art facility and the outstanding students who will be working inside the on-campus branch.
Mandarin High School began recruiting students during the 2016 – 2017 school year and the process was a vigorous one. Students were interviewed and chosen carefully to work in the branch. The staff responsible for choosing the students that would move forward were impressed with the articulation and dialogue expressed by the prospects.
Students participating in the program also had the opportunity to apply for VyStar's summer internships. This past summer, VyStar employed 60 Duval County Public School student interns from the Jean Ribault, Samuel W. Wolfson, First Coast, Mandarin and Fletcher high school branches. Since partnering with VyStar Credit Union, 164 internship positions have been offered to students with seven of those leading to full time positions following graduation. In addition, VyStar has awarded $12,000 in scholarships to district students.
"I got up early this past summer to come learn about money and I learned some very valuable lessons to carry into my future. We learned some great things about interest and I'm excited to help other students in our school branch," said Mandarin High School student Tyler Weeks.
The students who were chosen for both internships and as branch managers demonstrate a standard of excellence that Mandarin High School is proud of. A total of 117 students who were interested in business and entrepreneurship signed up for the VyStar Academy.
The original student-led VyStar Credit Union branch is housed at Wolfson High School. Each school-based branch mirrors local VyStar Credit Union facilities and is entirely staffed by students from the school's Finance Academy. The credit union, located inside of each school, is open throughout the time allocated to student lunches. While the branch is open, students and staff have the opportunity to utilize banking services. There are a total of 13 high school branches of VyStar Credit Union in the area.
"VyStar is thrilled to be part of Mustang Nation, bringing this valuable education to the exceptional student body. We look forward to a long lasting relationship and want to thank you for welcoming us into your community," said Vice-Chairman, Board of Directors of VyStar Credit Union P. Kem Siddons at the grand opening ceremony.
Photo by Angela Higginbotham
Dignitaries cut the ribbon at the launch of the VyStar Credit Union branch at Mandarin High School.