By Martie Thompson
editor@floridanewsline.com
Mandarin Museum & Historical Society welcomed nearly 1,000 visitors to Walter Jones Historical Park and Mandarin Museum on Saturday, Aug. 5 in celebration of the museum's grand reopening. A highlight of the day was a ribbon cutting ceremony with local dignitaries.
"The day marked the culmination of a years-long expansion and renovation project that added a new gallery space, an expanded archives room, new permanent exhibits, and a remodeled museum shop," Mandarin Museum Executive Director Brittany Cohill said. "The project was made possible through the generosity of many in the Mandarin and Jacksonville community including Don Bowden, Mandarin's own 'Frog Man,' and grants from the Florida Department of State Division of Arts & Culture and the Cultural Council of Greater Jacksonville."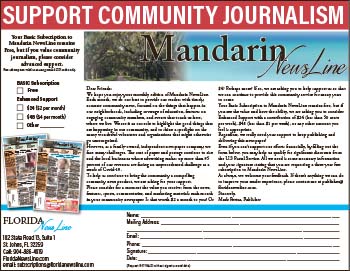 Mandarin Museum is now open to the public every Wednesday through Saturday, 10 a.m. to 4 p.m. Admission is free, with donations supporting the museum's operations and programming. Visitors will enjoy new exhibits including Always the River, The Untold Story of Black Mandarin and Mandarin through the Years. The museum's Stowe Gallery will feature a rotating selection of exhibits; currently "Old Mandarin: Artists and Landscapes" is on display in the gallery which is home to "Harriet's Corner," containing a chair from Stowe's home and an original Stowe painting.
Perhaps the biggest change is the Maple Leaf shipwreck exhibit. Housed in a newly constructed addition to the museum, the Maple Leaf now has a permanent and special place to display artifacts from the wreck and a video of the divers who discovered it. A brand new artifact, on loan from the State of Florida, is a piece of the bow of the Maple Leaf, which is displayed on top of an original map by local artist Julie Fetzer.
Guided walking tours of the buildings on the campus, including the 1875 Webb/Jones farmhouse, 1876 Barn, 1898 St. Joseph's Mission Schoolhouse for African-American Children, and Losco Winery log cabin are available during operating hours for a suggested $7 donation per person. Children ages two and under are free. No registration is required.
Field trips and group tours are available. Visit www.mandarinmuseum.org for more information.
Photo courtesy Olis Garber
Mandarin Museum ribbon cutting with David and Yvonne Monroe (Black History Exhibit Committee), Annie Landry (representative for the descendants of Harriet Beecher Stowe), Daryl Joseph (Director of Parks, Recreation, and Community Services), Don Bowden (Frog Man), Patrick Plumlee (Mandarin Museum board president), Brittany Cohill (Mandarin Museum executive director), Sandy Arpen (Mandarin Museum board vice-president), Michael Boylan (City Councilman, District 6).