By Martie Thompson
editor@floridanewsline.com
Students across Duval County, including local Mandarin schools, returned to school on Monday, Aug. 14. According to District 7 School Board Member Lori Hershey, the first day of school went smoothly, despite some traffic delays that were expected.
"I started the day at Mandarin Oaks Elementary welcoming kindergarten and first grade students," Hershey said. "I also visited three other district schools on the first day, as well as volunteered at Greenland Pines Elementary monitoring one of the school entrances a few days later. It's always good to be on campus and see the great work our teachers and staff are doing."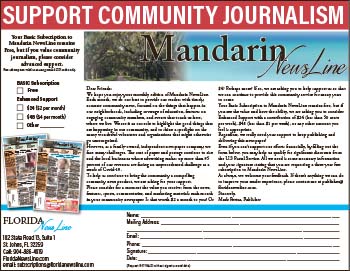 Hershey said Twin Lakes Academy Elementary opened the school year with a new principal: Julie Ehrenberg. She served as the assistant principal at the school last year and transitioned to principal over the summer.
Crown Point Elementary, home this year to nearly 800 students, had a successful first day, according to inclusion teacher Mary Eyler.
"It was an exciting, but very busy day," she said.
New this year is a badge-based, emergency alert system that is being implemented in Duval schools. Called Centegix, this badge-based system operates through a connection between sensors installed inside and outside the school buildings and a special smart badge worn by employees. The badge, which can be worn around the neck with a lanyard or clipped to clothing, contains a button, which when pressed in rapid succession, will send an immediate alert to school administrators that there is a threat and a lockdown needs to be initiated and send an immediate alert to school police and Jacksonville-area law enforcement that there is an emergency and a lockdown is being initiated. The district previously used the Raptor emergency-alert system, which relied on cell phone use. This new system is integrated into employee ID badges, which district leaders hope will improve access and response time.
Bus delays are an unfortunate byproduct of the shortage of bus drivers that the district is experiencing. The school district now has a webpage where parents can get updated information to help them stay informed. Visit https://dcps.duvalschools.org/busdelays; bus delays of greater than 30 minutes past the normal time are posted on this site.
Photos courtesy Mary Eyler
Ginger Manning's first graders ready to read on the first day of school.