Q: Can you shed any light on the search for a new superintendent for Duval County Public Schools?
A: At our meeting on Oct. 18, we decided to suspend the search for a new superintendent with the anticipation of now hiring a new superintendent by the end of June/beginning of July 2024. We have extended the contract of Superintendent Dr. Dana Kriznar (who is serving in the interim) until June 2024.
Q: Why was the search suspended?
A: The reason was that we had 10 applicants for the position, but did not have a large number with superintendent experience. Duval County is the 20th largest school district in the country and we felt that when compared to our current superintendent, none of the applicants had the same level of experience and expertise.
Q: Do you know any reasons why the applicant pool was small?
A: The Florida School Board Association, which ran the search for us, told the board that there were other credible candidates who were sitting superintendents in other districts who were hesitant to leave their district mid-year. So, timing was an issue and we hope extending the search will entice some of these experienced superintendents to apply.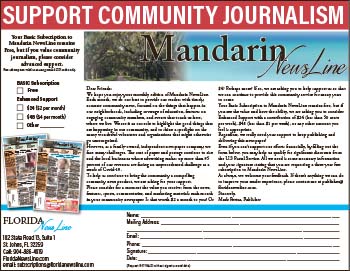 Additionally, there is the issue of the upcoming election in 2024 where not only will the scheduled four seats on the school board be up for election, but also the potential for two more due to the lawsuit filed by the NAACP against the city due to district lines changing. Depending on the judge's decision in this lawsuit, six of the seven school board seats might be up for election in 2024.
Q: Can you comment on the recently announced National Merit Semifinalists in District 7?
A: I'd like to recognize Zachary Baysore from Atlantic Coast High School and Emma Pavlicek and Luke Renne from Mandarin High School who were named National Merit Semifinalists. I'm really proud that of the six schools in the district that had National Merit Semifinalists, four are magnet schools and only two are neighborhood schools — both in District 7.
Q: Do you have any kudos to share?
A: Congratulations to the Mandarin High School volleyball team, who won the Gateway Championship by beating Fletcher High School.
Q: How can our readers contact you?
A: They can email me at HersheyL@duvalschools.org or call me at (904) 390-2375.