By Harry Jorgensen
mail@floridanewsline.com
Few student athletes can devote themselves to a sport while still earning stellar grades, but Ponte Vedra's Christian DePersio was able to excel in the classroom while playing two sports for the Sharks. DePersio, now a senior, played running back on the football team the past two years and ran track the past three years.
Although he struggled with some injuries during his two football seasons, DePersio said, "It was a great character building experience and I loved being part of the team."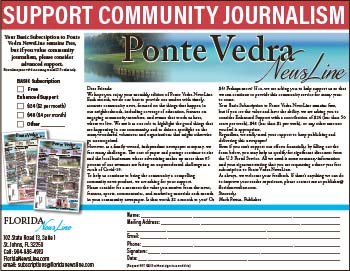 DePersio was satisfied with how his senior football season ended, especially since the team's hard work resulted in an undefeated district record and district title.
Despite his fondness for football, track and field has had the bigger personal impact on DePersio.
"When I moved to Ponte Vedra in freshman year, I was shy. I decided to go out for track as a sophomore. I made new friends, broke out of my shell and broadened my horizons. They're my second family," DePersio said of the track team.
While track has made a big impact on DePersio, he has made just as big of an impact on the team itself.
DePersio has been one of the track team's best athletes of recent years, with the 100 meter, 4×100 meter relay and shot put being his premier events.
As a junior, DePersio was a key member of the 4×100 meter relay that finished in second place at the district meet and then sixth at the regional championship, all while setting a new school record five times. Despite losing two athletes from the record-setting relay team from last year, DePersio helped rally the 4×100 relay to another runner up finish at districts and a second trip to regionals.
DePersio is also the track team's best shot putter, finishing fifth in the district.
DePersio excelled in the classroom during his time at Ponte Vedra High School, posting a 4.42 GPA and ranking at the top of his class; he will be attending the University of Florida next fall and plans to become a doctor.  
Harry Jorgensen is a senior at Ponte Vedra High School.

Photo courtesy Harry Jorgensen
Ponte Vedra High School valedictorian Christian DePersio also excelled at football and track and field for the Sharks.