By Martie Thompson
editor@floridanewsline.com
Nocatee resident Karen Rothen happened upon the interior design business while working another job in New York City that she didn't love. Rothen and her husband, Ed Rothen, were both originally from Connecticut, but his job took them to NYC when they were in their 20s. She found a job in Manhattan for a marketing research firm, but it didn't take long to realize that wasn't for her. The entry level position she found at the commercial design office instead would set the tone for her career.
Despite moving back to Connecticut, having a daughter, Erica, and then eventually moving to Ponte Vedra Beach, she maintained her interest in interior design and even started her own firm. The family moved to Marsh Landing in 1999 and Rothen was able to do design work part time while she spent time with her daughter, who was in elementary school at the time. As Erica grew, Rothen spent more time honing her craft.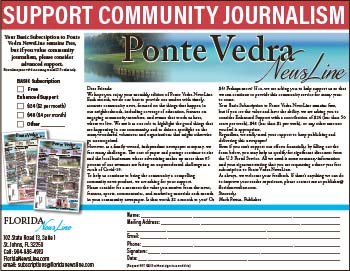 "What really escalated my business was moving to Nocatee about four years ago," Rothen said. "We downsized once Erica was in college and I was able to meet a lot of people moving to the area from out of town who needed help with design."
Now, her business runs the gamut from new construction to single room redesigns to hurricane restoration and renovation.
What do you like most about living in Nocatee?
I love the feeling of being away from the hustle and bustle. I feel a sense of calm and peace when I enter my neighborhood. Also, everyone is very friendly and willing to make new friends, since nearly everyone has moved here from somewhere else.
What is the most unique or interesting design job you have tackled?


I would say a home I worked on in Marsh Landing several years ago. The client had traveled the world and had many artifacts collected from those travels. They wanted them incorporated in the design. There was a canoe hanging from the ceiling and secret doors in the library.
If you could give everyone just one piece of design advice, what would it be?
The main thing is to take your time and think about how you live — before you go out and make purchases. Also, remember that a designer does not have to cost a fortune and can actually save you money in the long run from impulse purchases.
Where do you see yourself in 10 years?
I see myself working — and maybe even more so. I'll stay very current, of course. Even in my own home, I stay current. But it's important to remember that you can always change pillows or wall colors, while large items should be timeless.
What are some of the latest colors and design trends?
Blues are very "in" and a blush color is also becoming popular. Greys are safe … I don't really recommend a lot of beige because you have to be careful due to the undertones. Also, gold is coming back. Gold light fixtures, plumbing fixtures. Shiny brass is coming back in style.
Photo courtesy Jenna Alexander
Karen Rothen, owner of Karen Rothen Interior Design