By Courtney Clark
mail@floridanewsline.com
Since 2001, Marianne Stein has been a part of the Beaches League of Storytellers, a 35-year-old organization that began at the hands of a few ladies interested in storytelling at the Cummer Museum of Art and Gardens. Over the past three decades, participants have been visiting schools, churches and civic organizations to tell a variety of stories including folktales and legends.

Stein says people typically don't know what the storytellers do when they learn about them; most think the organization is aimed only towards children. However, Stein says, "They are very surprised to learn what is actually involved, and when we go into personal stories and how to write and tell them, they are amazed how events come back to them." Each month, the Storytellers hold a workshop teaching members how to tell and improve stories.

A longtime natural storyteller and now the president of the Storytellers, Stein moved to Ponte Vedra 15 years ago before recently relocating to Nocatee. She loves the area because of the variety of clubs and activities around Del Webb. In her spare time, she plays tennis and golf, sits as the education chair of Cummer Beaches, engages with Friends of the Library and visits her children in New York and Bahrain.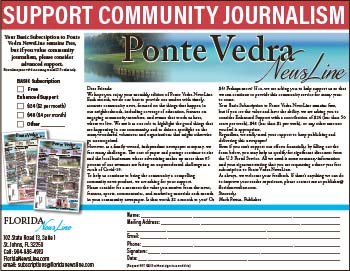 How long have you been telling stories?




I have been telling stories for 40 years, mostly to children as I was a children's librarian in the past. I had groups for all ages in the library every week for story programs, and even taught them how to learn the craft.

What's one of your favorite memories since you've joined the Storytellers?




One of my favorite memories is when we rented the Players by the Sea Theatre and had a two-hour long storytelling program for the public. [It was] told by eight different tellers and had eight different genres of stories as well.

What kind of stories do you tell?




I tell a lot of folk tales, humorous tales, personal stories when I have time to write them. I like tales from different cultures, [such as] American Indian tales.

What's your favorite story?




My favorite story, among others, is probably the Grimm Brothers' "Tom Thumb."

If you could be any character from any story for a day, who would it be and why?




I would like to be Paul Bunyan. It would be interesting to see the people from a giant's perspective and how they would react.
Photo courtesy Marianne Stein
Marianne Stein