By Tiffany Merlo Phelps
mail@floridanewsline.com
Every month, a group at St. Francis In-The-Field Episcopal Church in Ponte Vedra, meets in the Parish Hall to transform Kroger plastic bags into mats for the homeless. And they find fellowship and a greater purpose at the same time.
It is an idea that organizer Cindy Fielding first established at a church in Ohio around 30 years ago. She decided that she wanted to start a similar ministry in Florida about a year and a half ago and tried making a mat using recycled Kroger plastic bags. She succeeded, and it did not take long for church members to join forces with her. Kroger plastic bags, said Fielding, are stronger and more durable for this purpose.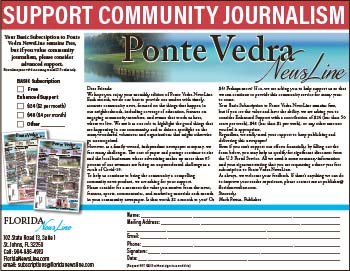 Known as "Mats and Merlot," a team of 50 volunteers form an assembly line of sorts to smooth and cut recycled plastic bags into loops that are joined to form balls of plastic yarn called "plarn." The plarn is then used by nine women to crochet into sleeping mats. Church members, and oftentimes non-members who simply believe in the cause, enjoy working once a month in the late afternoon while sipping on a glass of wine, lemonade or water.
It takes 550 to 600 grocery bags and 25-to-30-man hours to complete one mat. Crocheters spend time working at home as well, as it takes 18 to 20 hours of crocheting to complete one mat, said Fielding.
So far, the ministry has processed more than 28,000 recycled grocery bags and donated 56 mats to the St. Francis House in St. Augustine. The homeless shelter then distributes the mats to those it must turn away due to a full shelter. The mats provide a waterproof barrier between the ground and the sleeping bag, bringing some comfort to those who must remain outside. The mats have been well-received, and many are already spoken for before the group makes a drop-off, said Fielding.
Each mat comes with a shoulder strap for easy handling and is unique in its design so that the recipient can easily identify the mat. This is done by using other types of bags such as Target and Publix bags just to add a different color and a more personalized look. The plastic mats are lightweight, resistant to mold and mildew and easily cleaned with water, Fielding said. For volunteers, the mats are "a sign of hope and love."
"It is fulfilling to be able to provide some sort of comfort," said Fielding, who lives in Del Webb. "We can't imagine what it must be like to be homeless. We want to provide some warmth and comfort, so we gather as a group of Christians to help in any way that we can."
Lead Smoother Linda Fralick agreed.
"We are all so blessed and fortunate," she said. "When I know that somebody is going to feel a little more comfortable, that means everything. I like the gentle blessings, and I think that is what this is."
Patricia Daniel, one of the loopers, said she likes the durability of the mats, adding that they will last for at least three years.
"Every time someone sleeps on them, they will be thinking about how someone loves them," she said.
St. Francis House officials said they are appreciative of all the ways St. Francis In-The-Field supports its mission.
"Not only do they provide mats for us to give to the homeless men and women in our community, but they donate monetarily as well as their time, volunteering to prepare and serve meals and completing quarterly maintenance and beautification projects," said Joy Burton, marketing/special events coordinator for St. Francis House and Port in the Storm.
[Author's note: Fielding's goal is to collect 6,000 bags a month so that the group could make eight to 10 mats monthly. Anyone who wishes to donate bags can drop them directly at the church into two brown bins by the playground at any time. The church is located at 895 Palm Valley Road. Church members also do neighborhood pickups of bags in Palencia, Nocatee and Ponte Vedra Beach for those who have limited mobility, transportation issues or who don't pass by the church regularly. Kroger bags only please. Email Fielding at fieldingw@bellsouth.net for more information.]
Photo courtesy Tiffany Merlo Phelps
Susan Corrigan and Pat Johnston crocheting at Mats and Merlot.