By Martie Thompson
editor@floridanewsline.com
This month, Mandarin residents will have a unique opportunity to be entertained by an original play, "Unmasked," to be staged by Act II Players at the Mandarin Community Club. Directed by local resident Patty Everett, the play is historical in nature and is based on the story of real spies during the time of George Washington. The play, which contains humor as well as intrigue, ends with the signing of the Declaration of Independence.
The playwright, McKenna Rowell, is an author and history buff and this play is based on her "Unmasked" series of books. A second play based on this series is in the works. Rowell is a friend of Patty Everett's daughter, Louise, who is also an author. The two met online while discussing books. Louise Everett encouraged Rowell to write this play and they then brought it to Patty Everett to produce and direct.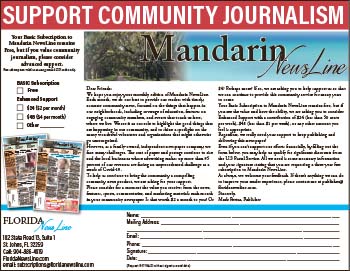 "I was drawn to this play because it is so unique," Patty Everett said. "It's a historical play about America coming together, and I think that's something we can all use right now."
Everett has directed three plays thus far with Act II Players, Mandarin's Community Theatre group. She first brought this project to them late last year and auditions finally took place on Sept. 1. Everett said the cast is varied and includes some who are brand new to acting and some who have acted on the Alhambra Theatre & Dining stage.
Everett said there has been much attention to detail for this production — everything from the period costumes and sets to concession stand offerings.
"We will have sugar cookies, wassail, and popcorn available at the concession stand," she said. "It will be like stepping back in time to 1776. But there will be no tea available!"
Everett noted that they are trying to involve as many Mandarin organizations and businesses as possible for this production, in order to make it a true Mandarin production.
"We are all so excited for this play," she said. "We hope everyone loves it."

"Unmasked" will be performed at the Mandarin Community Club, 12447 Mandarin Road, on Thursday, Nov. 16, Friday, Nov. 17 and Saturday, Nov. 18 at 7 p.m. each evening. Matinee performances will be Saturday, Nov. 18 at 2 p.m. and Sunday, Nov. 19 at 3 p.m. Tickets cost $20 (with senior and child discounts) and are available online at www.actiiplayers.org.
Photo courtesy Patty Everett
Nicholas Cooke makes a point during rehearsals for "Unmasked."