By Tiffany Merlo Phelps
mail@floridanewsline.com
For Melvin and Yvette Luciano, the Palm Valley Boat Parade is about community, unity, and having good old-fashioned fun. That's why the couple will enter their 37-foot sport fishing boat for the third year in a row this Dec. 3 for the 2022 Palm Valley Boat Parade.
"The parade gives us an opportunity to gather friends and family to do something for the community and for us," said Yvette Luciano. "It is a very unique, interactive and fun event."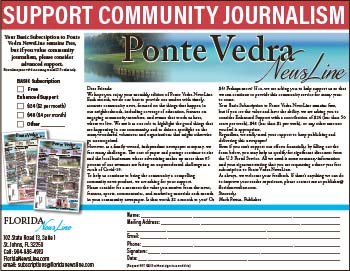 The Lucianos won Best in Show the past two years and said they worked for months on preparing their boat with the help of family and friends. In 2020, the theme was "Feliz Navidad" and last year the couple chose the movie "Coco."
"We chose "Feliz Navidad" because everyone knows the song and can relate to it. We chose "Coco" to remember in our hearts those who are not with us," said Yvette Luciano.
With an estimated 2,000 light bulbs on the entire boat, the Lucianos, along with family and friends, play music on the boat and get into costume for the big night. They will reveal this year's theme on parade night.
"The biggest reward for us is going to every dock and hearing the joy of the kids as they get excited to see each boat," said Melvin Luciano. "That makes all the planning and preparation well worth it."
The parade will begin at 6 p.m. starting at Marker No. 3 just south of the Palm Valley Bridge. From there, the procession will continue north and is anticipated to reach Marsh Landing around 8:05 p.m. – 8:30 pm. Live updates on pacing and expected arrival times at various landmarks will be given out as well. Water safety assistance is also provided during the event by the St. Johns County Sheriff's Office, St. Johns County Fire Rescue and Florida Fish and Wildlife.
Parade coordinator Beacham Still said the best places to view the parade are the restaurants along the seven-mile boat route of Palm Valley's Intracoastal Waterway: Palm Valley Outdoors, Barbara Jean's On the Water, Palm Valley Fish Camp and Valley Smoke. Also, Mickler's Wharf and under the Palm Valley Bridge are other possible public viewing locations, he said.
Cash prizes will be given to boat winners in different size categories and to the best decorated docks. Still said typically 20 to 30 boats participate in the parade, and this year is looking strong.
"We are always looking to expand the event in such a way that it allows for continuity and growth," said Still. "The parade's real mission is to support the community by creating scholarships for local high school students at Ponte Vedra and Nease."
He added that the parade is funded by generous participants, businesses, and neighbors, and it also benefits the Palm Valley Charities via the Palm Valley Community Association board.
"We like to give back to our local communities," said Still.
Capt. Bob Brindle, who has been driving boat No. 77 in the lighted boat parade for the past 22 years as the lead boat, said he is once again looking forward to the parade.
"It is great since in this parade the boat and docks can interact with each other. It is lots of fun and a great family and friends event," he said.
For more information, visit palmvalleyboatparade.com or look for parade updates on their Facebook group page www.facebook.com/groups/Palmvalleyboatparade. Still can be reached at bstill@syncworks.com.
Photo courtesy Beacham Still