By Lesley Arrandale
mail@floridanewsline.com
Although I am a Master Gardener — volunteering and undergoing further training each year — I must admit that I'm not actually an accomplished, practical gardener. I am not talented at designing, installing, and maintaining an attractive landscape, despite the fabulous information available through the extension system (see http://hort.ifas.ufl.edu/homeowners/). For those of you who feel they may share these shortcomings — there can be compensations.
My yard is unkempt, but it does attract a wonderful array of butterflies, as well as hummingbirds, which is delightful. The plants responsible are some of the old standards: firebush (Hamelia patens), tall red pentas (Pentas lanceolata), Mexican milkweed (Asclepias curassavica, which I would like to replace with the native butterfly weed, A. tuberosa), maypop or purple passionflower (Passiflora incarnata), wild red salvia (Salvia coccinea), wild petunia (Ruellia caroliniensis), red shrimp plant (Justicia brandegeana), firecracker plant (Russelia equisetiformis), as well as the calico vine (Aristolochia littoralis or A. elegans), which unfortunately has invasive tendencies. (A good "alter-native" would be the — native — woolly Dutchman's pipevine, Aristolochia tomentosa, which is harder to find.) They bloom through much of the summer and this is why those butterflies just keep coming. In addition, the pipevine is a host for the gold rim swallowtail, and the zebra longwings and Gulf fritillaries lay their eggs on the maypop, so these are the butterflies I see almost every time I look out of my window. In the fall, tall, red-flowered firespike (Odontonema strictum), another sturdy dependable plant, will come into its own as a nectar plant for butterflies and hummingbirds alike.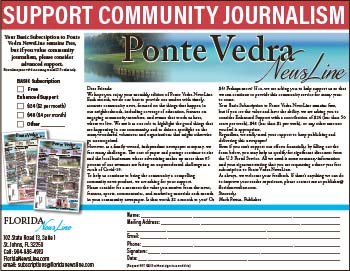 My volunteer tree, a sugarberry (Celtis laevigata), is a host for several butterflies, including American snout, tawny emperor, hackberry emperor, and question mark. And of course, the oaks which inhabit this older neighborhood are a food source for the caterpillars of a number of smaller butterflies. I have also seen many ladybird beetle larva on the sugarberry, which means they have been making a meal of any aphids they find, before they have a chance to fly off to feast on someone's tender vegetables!
There are many publications about butterfly gardening, and this one (http://edis.ifas.ufl.edu/uw057) lists the host plants for all the butterflies found in our area, as well as throughout Florida. You may need other sources of information if you don't already know the plants, but many of them will be familiar. Skip to Table 7 if you simply want to find plants to attract butterflies to nectar in your yard; they will likely find their host plants elsewhere in your neighborhood. Check out this article (http://edis.ifas.ufl.edu/ep420) about public landscapes, if you have a large property, or live in a rural area where there will likely be natural areas that attract butterflies.
As much as I really admire a gardener who has succeeded in making (and keeping up with) a beautiful garden, I love the butterflies I see from my kitchen window, and am a little reluctant to wreak havoc in their haven. In the fall, though, I shall make an effort to deal with unwanted plants. I'll tackle them as individuals, as much as possible, rather than resort to wholesale destruction by mechanical means. And as for weedkiller, I expect I may have to resort to treating small stumps of invasive golden rain trees (not native) as well as Carolina cherry laurels (an aggressive native), but I daresay physical yardwork would be better for me!
An important part of this venture will be to replace undesirable plants with ones more in keeping with my little corner of the planet, such as flowering and fruiting trees and shrubs, nectar-rich perennials, and food plants for caterpillars. It's a big task, and better undertaken in stages, I know!
If you are wondering why butterflies are important, other than the obvious fact that they are simply beautiful, they are an indicator of the general health of an ecosystem (see http://tinyurl.com/yddn494t). They are prey for birds, and their larvae sometimes feed on destructive insect pests. And they pollinate plants that shorter-tongued bees cannot.
Check out the September/October edition of A New Leaf, which will be available on line in early September (http://tinyurl.com/ybj2zxev). This is always a go-to for current information on gardening, as well as upcoming classes.
Lesley Arrandale is a Master Gardener with the Duval County Cooperative Extension Service/City of Jacksonville Agriculture Department, which is a partnership between the United State Department of Agriculture (USDA), the University of Florida Institute of Food and Agricultural Sciences (UF/IFAS) and the City of Jacksonville.