By Lesley Arrandale
mail@floridanewsline.com
So – we had a last minute cold snap, just a few days before our last projected frost date. I hope you all didn't lose any precious new (or old) plants. Luckily we had a good downpour beforehand, which invigorated our plants. Unfortunately, as of mid-April, we are still low on rainfall, although for the next few months we can expect precipitation to be average (https://tinyurl.com/lnxujms). Of course, this is our dry season. In addition, we are looking at a 40 percent chance of higher than normal temperatures for the next few months (https://tinyurl.com/kuq67z4).
If you haven't done so already, consider how you water your yard and if possible switch to a water-wise system of drip and soaker hoses. Check the coverage on the system you use for your lawn to ensure that water is reaching the whole lawn evenly. Only apply water when needed — when the blades close and take on a blue cast, and footprints remain in the turf when you walk on it (http://edis.ifas.ufl.edu/lh025).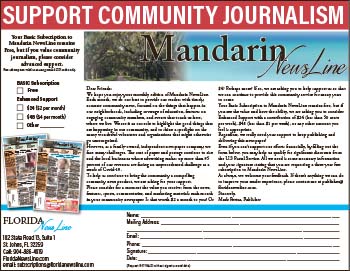 The title of my article may seem odd, but I have a cautionary tale. A seasoned Master Gardener, with more than 25 years' experience, raises monarch caterpillars on Mexican milkweed for use in the Junior Master Gardener Program which operates in some of our local schools. With the caterpillars happily chowing down on her plants, to the point that they were almost defoliated, she bought some more — from a store which shall remain nameless, for obvious reasons.
To her horror, every single one of the caterpillars she placed on those plants immediately died. I would simply like to say, if you are buying milkweed plants, ask the seller in the store, "Have these plants had any insecticides applied to them?" Their answer should be an unequivocal "no" and they should also be able to answer for their growers. In this case, it is highly likely that the grower wanted to deliver good looking plants to the seller. At this time of year we can begin to find butterfly eggs on milkweed, and a completely pristine plant is probably to be avoided. Monarch caterpillars will munch holes in the leaves, usually beginning with the tender new leaves, and this is exactly what we want to see.
As the weather warms up, so will our compost heaps. By paying attention to proper practices – keeping the moisture level just right, turning regularly, and adding the desired ratio of brown to green material – we can expect to produce well-rotted compost in as little as six weeks, rather than the months it can take over the cooler part of the year (http://edis.ifas.ufl.edu/ep323). Compost makes a good top dressing and can be used even if it hasn't fully rotted down and still contains larger pieces of material. If you are tilling it into beds, though, the compost needs to be completely finished in order to avoid microorganisms being robbed from the soil and used to continue the composting process.
I recently took a trip to the Panhandle, and spotted native azaleas blooming in a few places along the Interstate 10 corridor. Spring was definitely shifting to summer, with the majority of trees taking on darker shades of green. Not such a welcome sight, however, was the cultivated lantana near Pickering Fort on the Gulf Islands National Seashore. This is a designated National Seashore, and although it's possible that lantanas were originally planted in the area, since there are some cottages near the fort, they were growing in scrub areas where they certainly weren't planted by human hand.
Closer to home, on San Jose Boulevard on the soon-to-be-developed wooded strip south of University Boulevard between La Vaca and Dupont Avenue, you may have spotted lantana growing – it shouldn't be there either, sad to say. While plenty of our introduced plants do well without becoming nuisances, and we should be happy about that, others are moving into natural areas where they don't belong (https://tinyurl.com/kr9qfom). Please be aware that when plants spread uncontrollably — think kudzu — we are losing food for our native insects, which simply don't have a taste for them, and thus for our birds and the other small creatures that prey on them. It's a big, wide web out there, and not just the electronic kind. The links that bind the web of life are precious, and once broken are costly, if not impossible, to mend.
Lesley Arrandale is a Master Gardener with the Duval County Cooperative Extension Service/City of Jacksonville Agriculture Department, which is a partnership between the United State Department of Agriculture (USDA), the University of Florida Institute of Food and Agricultural Sciences (UF/IFAS) and the City of Jacksonville.