By Angela Higginbotham
angela@floridanewsline.com
Susie Marshall is a Jacksonville native who has enjoyed living in the Mandarin area since 1973. She graduated from Lee High School and then Florida State University with a degree in elementary education. Marshall served in the Duval County school system for well over 40 years. She passionately worked inside the classroom and later in her career, she worked with community education and as supervisor over all extended day programs. Marshall is currently serving her second term as president of the Mandarin Women's Club, an honor in which she takes great pride and joy. She also gives her time volunteering with hospice care. With her daughter, son-in-law and grandson living nearby, Marshall loves spending time with her family.
1.What do you enjoy most about living in Mandarin?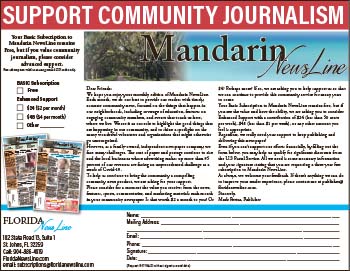 The choices available for everything. I really enjoy everything about Mandarin.
What aspect of the Mandarin Women's Club mostly keeps you motivated to stay involved and serve as president?
I really enjoy the club. I like the efficient women and I appreciate all the different things they do to run the organization. The friends I've made mean a lot to me and I really enjoy all of the activities we do together. We have 183 members and I suspect we will keep adding. We have Bingo, silent auctions, we travel around the city as well as out of town and we have so many activities for women who may not have family around and just want to meet people.
What do you enjoy doing outside of your volunteer work?
I stay involved in Mandarin United Methodist Church. I've traveled a lot and I like being outside. I play Mexican Train and other games with the ladies at the Women's Club and I love spending time with my 11-year-old grandson. I also read a lot. John Grisham, Fannie Flagg and David Baldacci are a few of my favorite authors. I'm blessed to still meet up with my high school friends often for fun.
What would you consider your greatest accomplishment thus far?
This may sound corny, but raising a good, dependable, great daughter would be my greatest accomplishment. It's nice seeing your child grow up normal and happy with a productive life.
What is something that most people don't know about you?
Well, just a few years ago, I got a tattoo on my shoulder. It's a trinity symbol because I feel strongly in my Christian beliefs. I'm a good ol' Southern girl and it's not something I ever planned on doing, but it means a lot to me now.
Photo courtesy Susie Marshall
Susie Marshall