By Sandy Arpen
mail@floridanewsline.com
Mandarin lost a legend when Montifiore William "Billy" Barwald passed away in May at the age of 97. He  had been a member of the community since electricity and paved roads first came to Mandarin and his father moved their two-story house by river barge from Riverside to Mandarin and then rolled it down Loretto Road on logs.
Barwald served in World War II in England and married an English girl, Peggy, who came home to Mandarin with him to start a family and a 60-year landscaping business. They also helped start  the Mandarin-Loretto Volunteer Fire Department with Billy Barwald serving as the Fire Chief and Peggy Barwald working the phone tree that was necessary to call all the other volunteers to go to the place of the fire.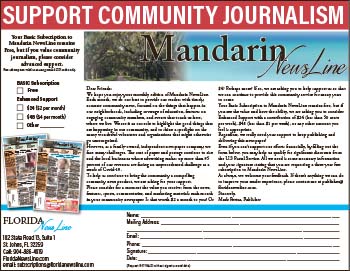 In 1990, Barwald and his son Mike opened Flying Dragon Citrus Nursery. He was considered an expert in the field, gave talks about citrus all around the state and was elected to the Florida Nursery and Growers Association Hall of Fame in 2011.
Barwald was also a local historian with a keen knowledge and memory of Mandarin's history.
In 2013 he told the board members of Mandarin Museum & Historical Society that he "had some stories" he wanted to tell and thus began a series of Front Porch Stories at Mandarin Museum. The series included stories about the citrus industry in North Florida, his family's house moving, the cattle drives from Mandarin to Palm Valley and his experiences in World War II. For this effort, Barwald was awarded a Jacksonville Historic Preservation Commission Award for preservation of heritage through oral history.
Billy Barwald will be greatly missed in this community by old-timers who knew him forever and newcomers who sought his advice and counsel on their citrus trees and knew they would also get a good story or two while they were there.
A public memorial for Billy Barwald will be held at Mandarin Museum in Walter Jones Historical Park, 11964 Mandarin Rd., on Sunday, June 26 at 2:30 p.m.
Sandy Arpen is President of the board of directors of the Mandarin Museum & Historical Society.
Photo courtesy Mandarin Museum & Historical Society
Billy Barwald shares tales during one of his Front Porch Stories at the Mandarin Museum.